Real Wedding: Min and Sam's Autumn Inspired Wedding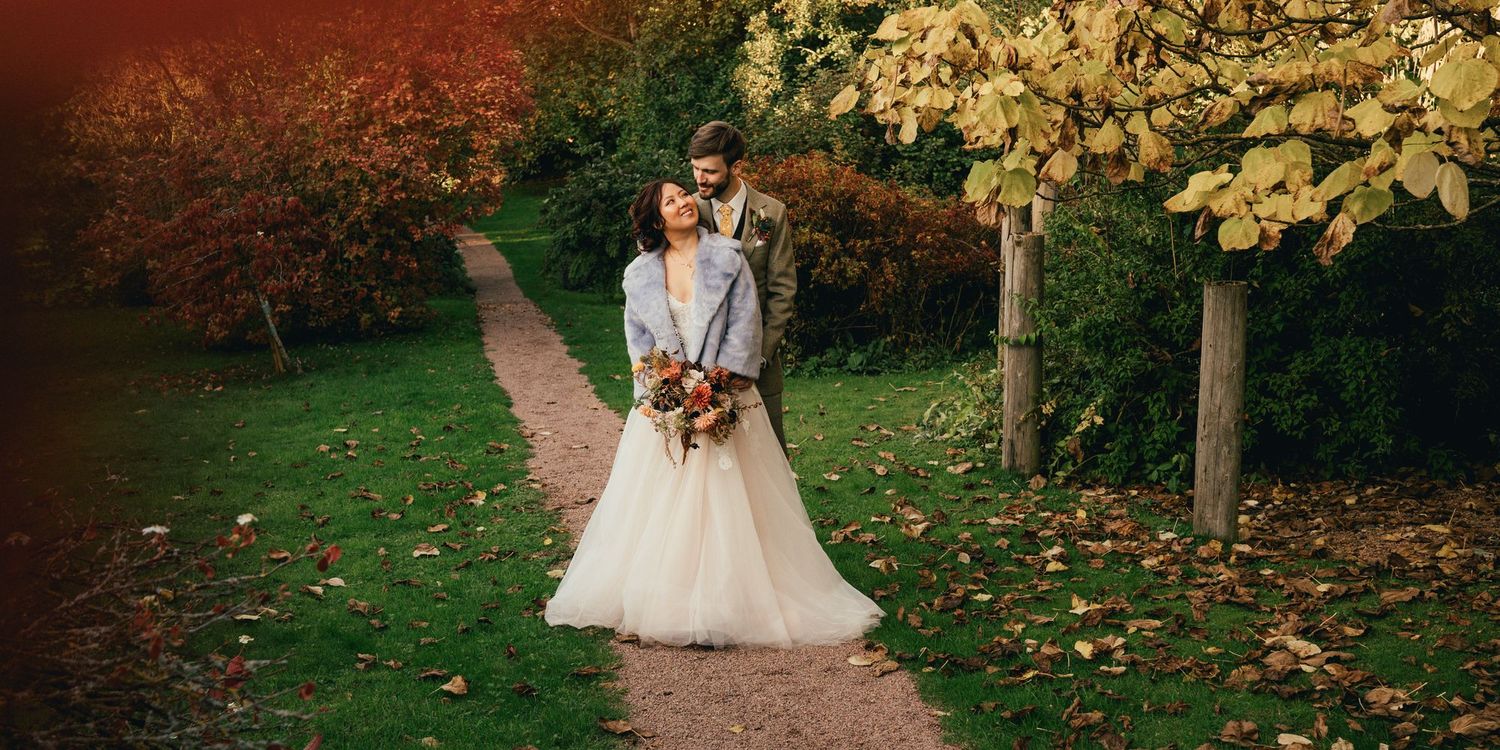 Real Wedding: Min and Sam
It was a very exciting start to 2019 for Min Yse Chong and Sam Morris, as they secured a date for their autumn wedding later that year at Dewsall Court. Unlike the typical wedding booking process, the couple were yet to see the venue but knew it was perfect in every way possible… Located in Singapore, Min had put in some serious online research hours for wedding venues in the UK and her hard efforts were truly rewarded when she discovered Dewsall.
Min and Sam married on Saturday 19th October – it was the peak of autumn and Dewsall bathed in gorgeous golden hues and layers of falling leaves. Their wedding celebrations were an incredible fusion of cultures, with multiple gorgeous outfits and family sentiments running throughout. They incorporated a western wedding where Min wore a classic white dress and a Chinese tea ceremony with the most beautiful red Chinese wedding dress.
Whilst Min enjoyed her wedding morning preparations with hairstylist, Tabitha Macchurach-Paine, the wedding party played a game of 'Gate Crasher'. This involved a series of challenges which the groom and groomsmen must undergo in order to win Min as Sam's bride.
Min watched most of the games from the Dewsall Suite via a streaming link to her phone. The final challenge revealed Min in her dress who at this point was waiting in the Study. Once the games were completed and Sam had been reunited with his bride-to-be before they got changed into their authentic Chinese attire for a beautiful tea ceremony which took place in the Conservatory.
After a light lunch and another outfit change, Min and Sam prepared for their western wedding which took place in The Wainhouse Barn.
Min had chosen to work with autumn's natural palette and her bridesmaids' dresses were a beautiful reflection of this.
Min had pulled out all the stops whilst working with Jo from Issy and Bella to create the most stunning seasonal florals which were to be a focal point throughout the day. The bouquets and arrangements were full of texture with berries, grasses, roses and cosmos.
As Min made her way down the aisle lined with autumn leaves, Sam's face was beaming and he continued to wear this smile for the rest of the day.
Their humanist ceremony was led by Sam's uncle and took place in front of the gorgeous moon gate arch.
After the ceremony, guests moved outside where photographer, Lucy G Photography, arranged a confetti moment.
Whilst the Dewsall team got to work transforming the Wainhouse for the wedding breakfast. Guests made their way to the house, where they were greeted at the house by El Jazz Band; the collection of 4 jazz musicians set up in the conservatory where guests enjoyed a drinks and canapé reception. Guests were also able to watch footage from the tea ceremony and gate crasher games from earlier that morning on a large TV screen set up in the Study.
Canapé Menu
Rare Hereford Beef, Pickled Red Onion, Cannellini and Horseradish Puree on Crispy Crouton
Seared scallop, Creamed Sweetcorn and Crispy Bacon Crumbs
Watermelon and Feta on Sticks with Pomegranate Molasses
Herb and Chilli Fritto Misto – Vegetable, with Chipotle and Lime Mayonnaise
Polenta Bites with Sundried Tomato and Walnut Pesto
Min and Sam ventured outside to the beautiful and autumnal Dewsall grounds for some couple photographs.
The Wainhouse proudly wore its second beautiful look of the day. Min had worked with Issy and Bella to cast a gorgeous autumnal ombre effect leading down the barn and chandeliers. The tables were filled with tapered candles and each guest received a Bee Bomb as a favour.
Guests took their seat for the incredible feasting-style wedding breakfast. Sam only had two requests; Weetabix for breakfast in the morning and an apple and blackberry crumble for pudding (just as his mum would make it – and the kitchen team replicated it perfectly!)
Wedding Breakfast Menu
Starter
Mezze – Hummus, Baba Ganoush, Tzatziki, Chargrilled Peppers, Green Herb and Pomegranate Tabbouleh
Main – Feasting Style
Blackened Salmon with Sichuan Cucumber Relish
Beer Braised Short Beef Ribs with Mustard
Local Sausages Cooked with Rosemary, Mustard and Honey
Cauliflower Steaks with Ginger, Turmeric, Cumin and Almond Aioli
New Potato Salad with Lemon and Garlic Mayonnaise and Cress
Raw Beetroot, Carrot and Apple Salad with Cider Vinegar Dressing and Crumbled Feta
Lentil and Roast Root Salad with Clementine and Ginger Dressing
Served with Baskets of Warm Sourdough
Dessert
Apple & Blackberry Crumble with Jugs of Custard
Griddled Pineapple, Chilli Syrup, Lime and Coconut Vegan Ice Cream
The wedding breakfast concluded with a communal Yam Seng announced by the father of the bride. Yam Seng is a tradition for Chinese wedding celebrations; the communal 'cheers' congratulates the couple on their marriage.
After the wedding breakfast, the couple slipped away for some golden hour photos before returning for the speeches where Sam gave Event Manager, Laura, a personal mention for the wonderful relationship she had developed with Min from the first day they (virtually) met. Planning a wedding from abroad had been made easy with the help of Laura and the Dewsall team.
Min and Sam cut their wedding cake and with that, the party began! They took to the dancefloor for their first dance and later that night guests feasted on a ploughman's table served with the wedding cake.
The couple are yet to take a honeymoon, but have agreed that they will both get to choose a secret location! What could be better than two honeymoons!? We hope to see Min, Sam and their family and friends return to Dewsall in the future to reminisce on what really was the most perfect autumn wedding.
Suppliers
DJ – Min & Sam's Playlist
Ceremony & Reception Music – EL Jazz Band
Photographer – Lucy G Photography
Florist – Issy & Bella
Favours – Min & Sam
Hair – Tabitha MacCurrach-Paine
Make Up – Min
Cake – Mr Pope's Celebration Cakes
Humanist – Sam's Uncle
Photobooth – iBooths