Join us this Christmas for a Yuletide soirée Read More
Dewsall Hire List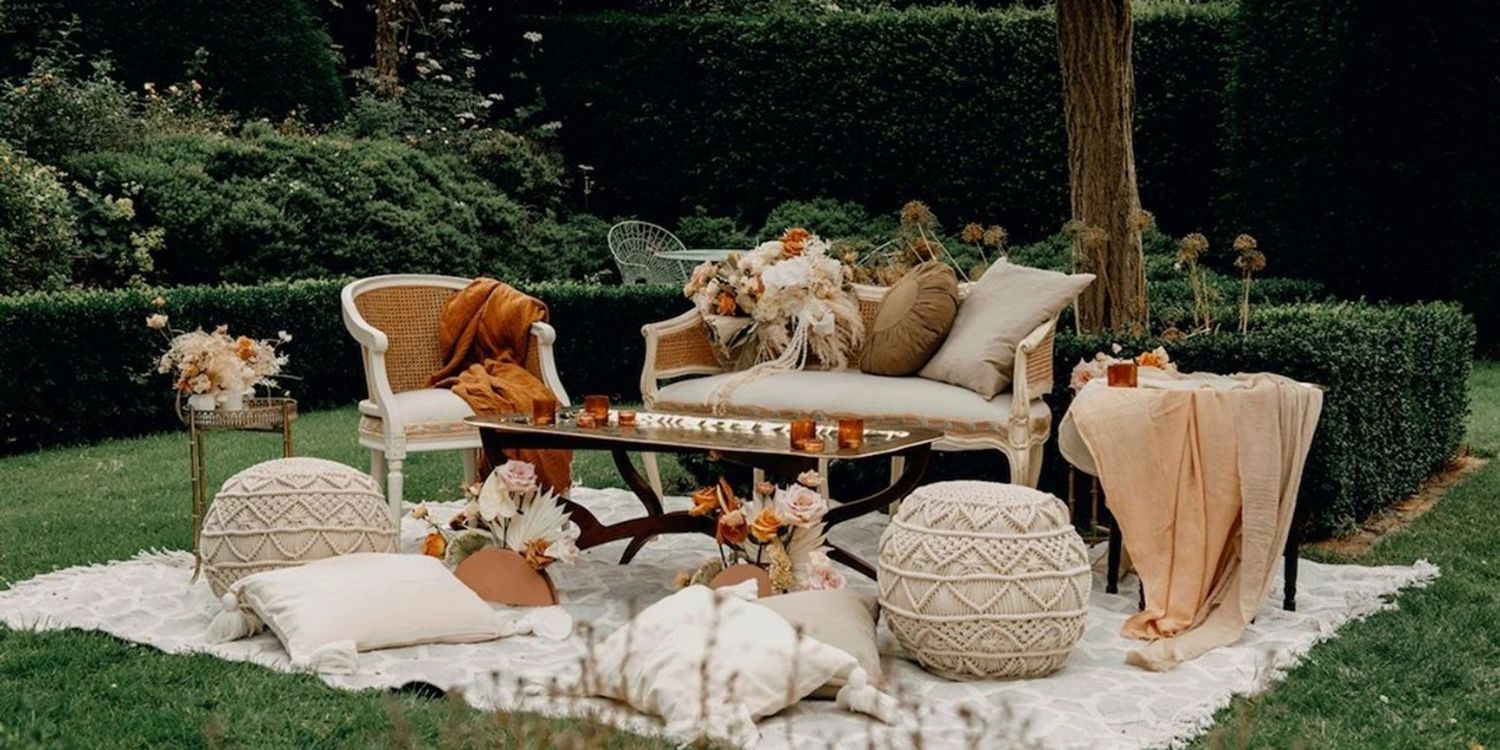 Creating your own Dewsall wonderland is easier than you may think with the help of our hire list.
From vintage furniture and quirky cake stands to elegant silverware and the most incredible macramé ceremony backdrop, our extensive range of hire items will add a magical and unique touch to your wedding day. Whether it's romantically rustic or boho beautiful, we can help you create your very own Dewsall dream of swoon-worthy settings.
However, it's not all about what meets the eye; entertain your guests in the summer months with our range of lawn games. We can set these up so that once the ceremony is over and the reception begins, your chosen games will be enjoyed by your guests. Not only are the games perfect for the wedding day itself, but they're also great for the evening before.
Of course, there is the wonderful Dewsall canopy – light and airy to provide cover and shade for outdoor ceremonies. We have a range of aisle runners for you to choose from depending on your theme, from rustic coir matting to beautiful Persian and medina rugs. Not forgetting our stunning ceremony backdrops to finish your aisle setting perfectly!
A variety of stylish furniture and seating is available, we can even create you an outdoor lounge. For a real showstopper, transform The Nest into a glorious gin bar, lit by moonlight. The set-up includes a bamboo bar, moon and star lights, beanbags and a selection of storm lanterns.
Dress the Wainhouse with dazzling decor; our range of candlesticks and candelabras make a beautiful addition to your tablescape. For a fabulous setting for your desserts and drinks, we've got items that will make them look even more delicious than they already are! Why not consider getting your florist to dress these areas for an extra touch of wow!
Our decor offers seasonal splendour throughout the year, as we have a range of items suited to cooler month celebrations, too; for the ultimate Dewsall Winter Wonderland, just let the Hire List help. Scroll down to view images of selected items…
Contact us at [email protected], or reach out to your event manager for more information.