See our Winter Weddings Offer - Four for Fourteen! Learn More
Dewsall Through the Seasons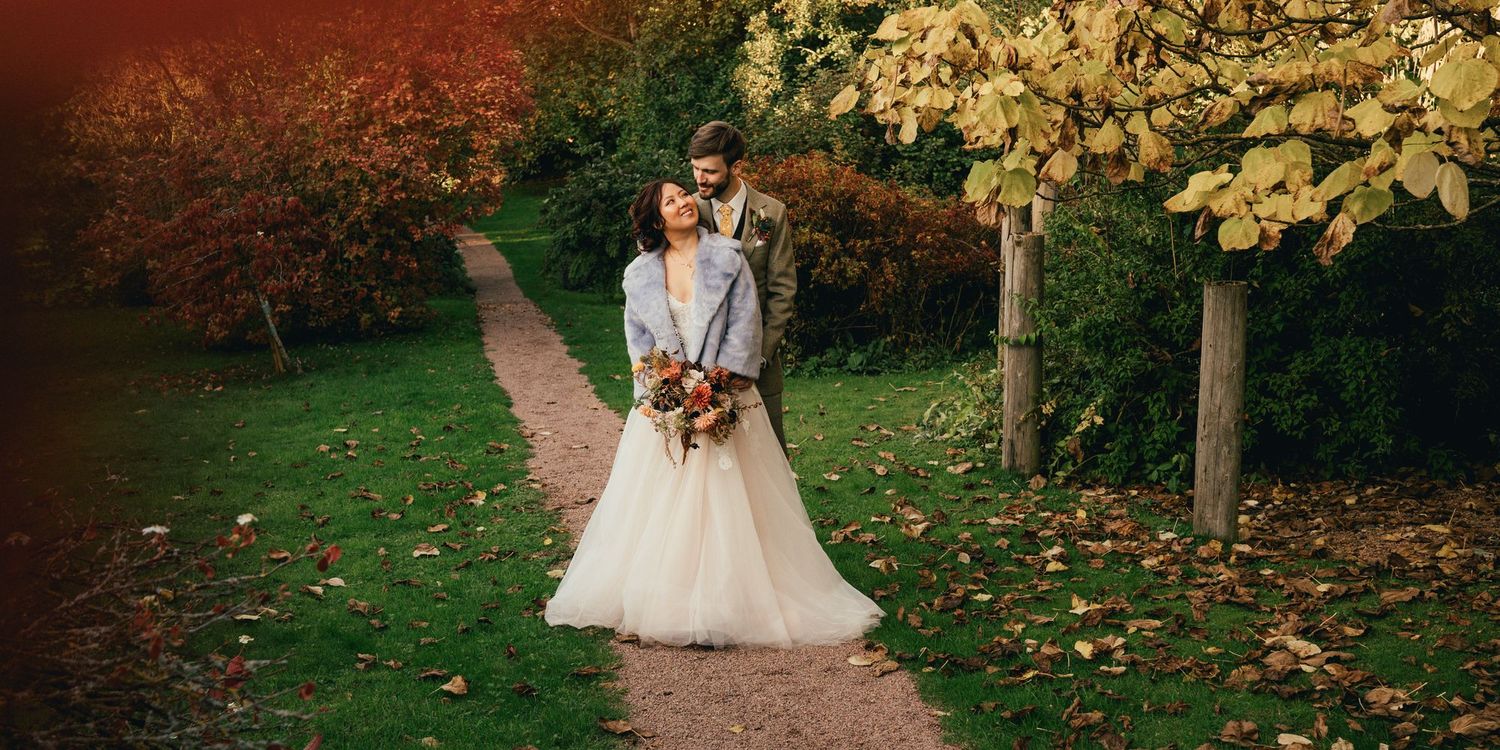 The beauty of Dewsall is transferred from season to season, and we can't possibly pick a favourite! However, we have rounded up some of the wonders of each season in this blog so that you can pick yours…
To start, we're paying homage to a certain few things we're graced with all year long! The first is access to such incredible local, sustainable and seasonal produce, which our in-house catering team uses to create divine monthly menus celebrating the very best of each season.
Panoramic views of Herefordshire and the Black Mountains welcome you at Dewsall Court, and the sunsets are out of this world! Although we can't plan for a breathtaking sunset, believe us when we say they are frequent and utterly captivating.
Surrounded by benches draped in sheepskins and blankets, the iconic Dewsall firepit is a beautiful focal point where guests can gather before or after dinner. Serving hot chocolate, toasted marshmallows or mulled cider later in the evening here would also add to the magic.
No matter the season, Dewsall has an array of incredible spots for wedding photos – indoors and out! The hydrangeas, The Billiard Room, The Study, top of the world, Scot's pines, the Pole Barn, The Nest and the studded doors – to name a few! Please ask your event manager for more information and inspiration.
Spring
Snowdrops and the early daffodils peep through hedgerows, line our pathways and scatter across banks in the distance to mark the start of the first new season of the year at Dewsall.
When we think of a spring wedding, we think of soft pastels, early peonies and ranunculus, romantic lace and tulle, and the first tastes of wild garlic, English asparagus and spring lamb. A spring Dewsall celebration is the perfect opportunity to use outdoor and indoor spaces. When choosing an outdoor ceremony, couples will use our gorgeous canvas canopy, which provides a perfect balance and enough cover to protect from inclement weather.
During spring, the nights still draw in at around 8 o'clock, allowing you to create atmospheric candlelit spaces for the evening reception. And don't forget, the clocks change at the end of March, gracing you with an extra hour to embrace the season and enjoy activities before the sun sets on your wonderful Dewsall wedding day.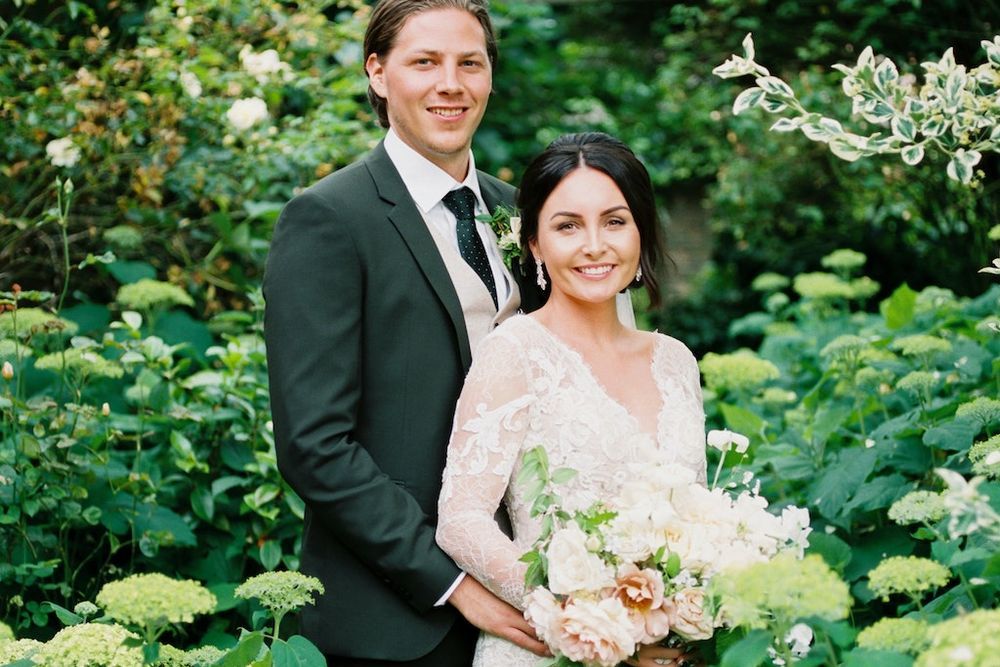 Summer
The arrival of summer brings longer, lighter days and, of course, warmer temperatures. But, in addition, it unlocks a whole new realm of summer wedding inspiration. Our Wainhouse Barn boasts an entire side of retractable glass doors which can open right up to let the beautiful outside in, so whilst you enjoy your first meal as a married couple, you can also be at one with the surrounding nature.
No amount of gorgeous draping or overhead flowers can compete with the natural beauty of the blue sky hanging above the luscious Dewsall grounds on a summer's day. So whether you choose lakeside, the West Lawn or the dappled woodland for your ceremony, an outdoor ceremony celebrates not only the love between a wonderful couple but also the beauty of a stunning season in glorious Herefordshire too.
Providing garden games during your reception is an excellent form of entertainment and doubles up as an ice-breaker between your guests. We have ample space for garden fun on the grounds at Dewsall and also offer games for hire, such as croquet, kubb, skittles, quoits and boules. Contact us for our complete list of equipment available to hire for your unique celebrations.
At the end of the day, spin around and celebrate surrounded by loving guests as you enjoy your first dance out in the open air. Embrace the charm of the Dewsall grounds and the warm golden hour light we all know and love during summer.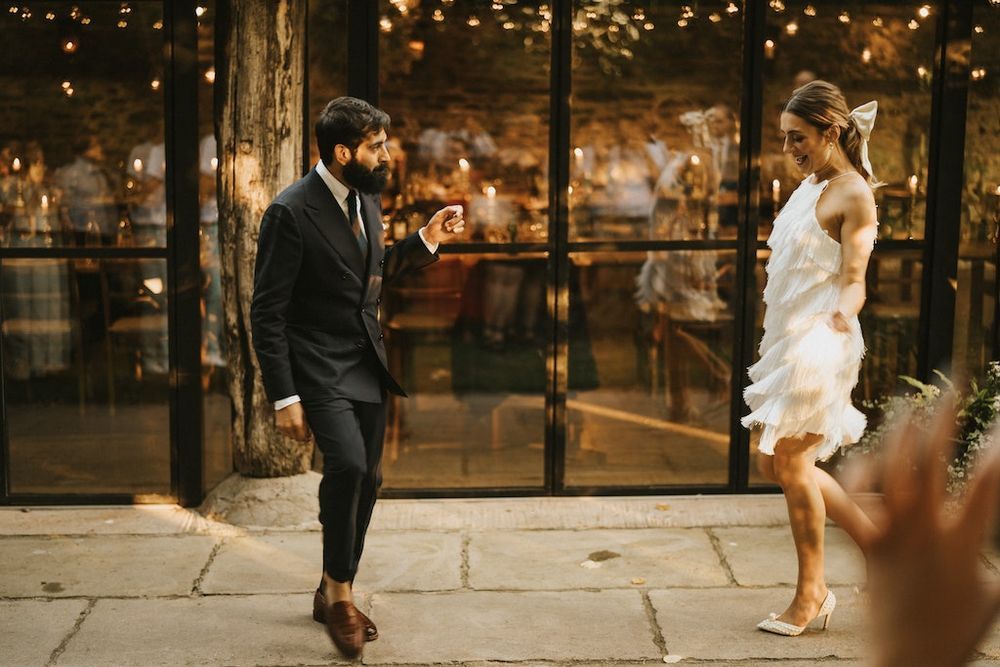 Autumn
At this time of year, you have the potential for warm Indian summer daytimes and cool dark nights. This means you can benefit from incredible sunsets and take advantage of beautiful lighting, candlelight and firepits as the moon rises. So if you're dreaming of crisp fallen leaves, rich hues of russet, red and orange and low golden sunlight, then an autumn Dewsall wedding is perfect for you.
The Wainhouse offer the perfect canvas for an autumnal autumn setting; its oak beams pair perfectly with dried flower arrangements for that authentic 'harvest' feeling.
This time of year marks the start of warming comfort flavours and toasty tipples. You can host your reception in the main house, where guests can mingle ahead of food in our cosy conservatory overlooking the gardens or take a seat in front of the roaring fire in the hall.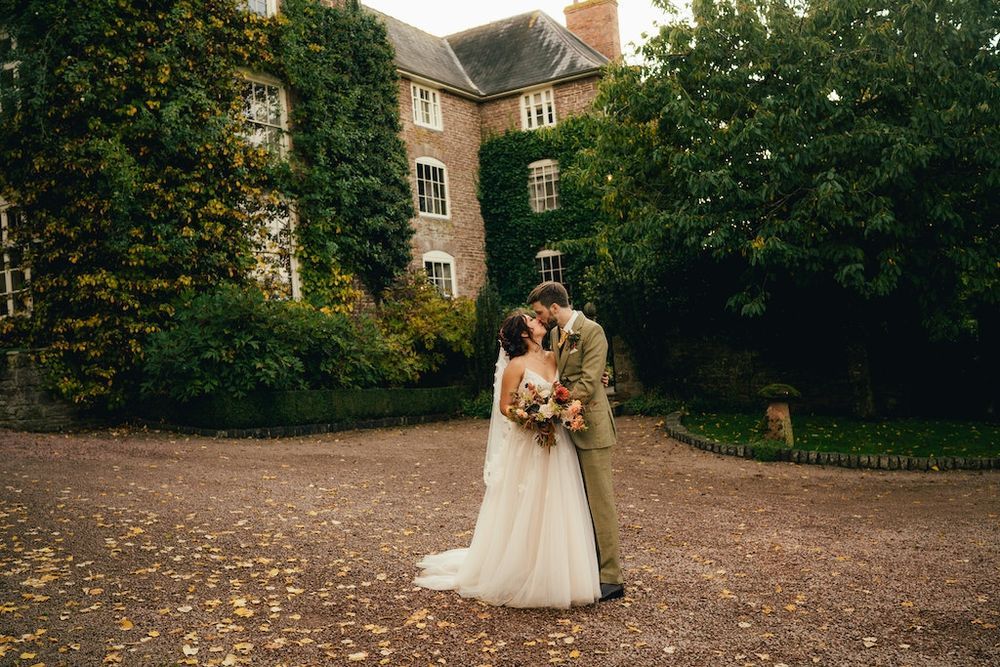 Winter
During the colder seasons, we have a number of indoor ceremony locations – including our ancient church and breathtaking Wainhouse Barn. Guests can be welcomed into the main house with a warming glass of Dewsall deliciousness and an array of wholesome seasonal canapes.
Shorter days mean that wedding breakfasts in winter can bathe in the soft flicker of candlelight. The warming glow in the Wainhouse offers a truly magical experience for you and your guests! This season allows couples to get creative with rich, opulent colour schemes – think jewel tones and metallic accents paired with velvet ribbons and an abundance of taper candles.
Winter celebrations at Dewsall offer the perfect setting for evening entertainment, such as a magician or live sketch artist; this is because your guests will tend to remain in the main space, and the entertainment will have a better chance of getting around them all.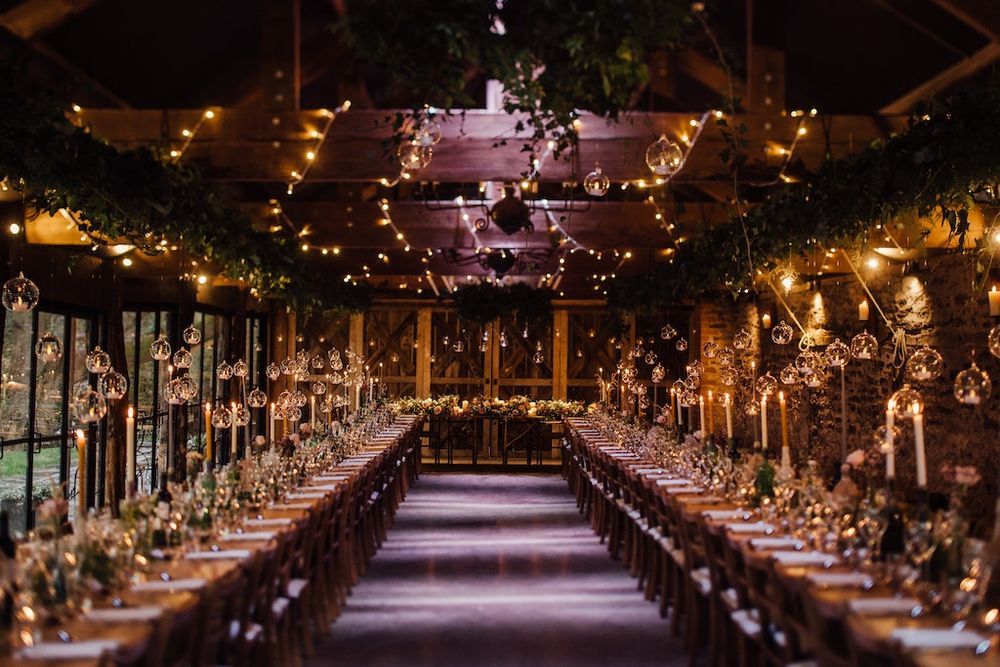 Contact us today via our contact form to book your Dewsall visit to view our spaces in person and talk about your wedding plans with one of our event managers.
Sx