Join us this Christmas for a Yuletide soirée Read More
Toasty Tipples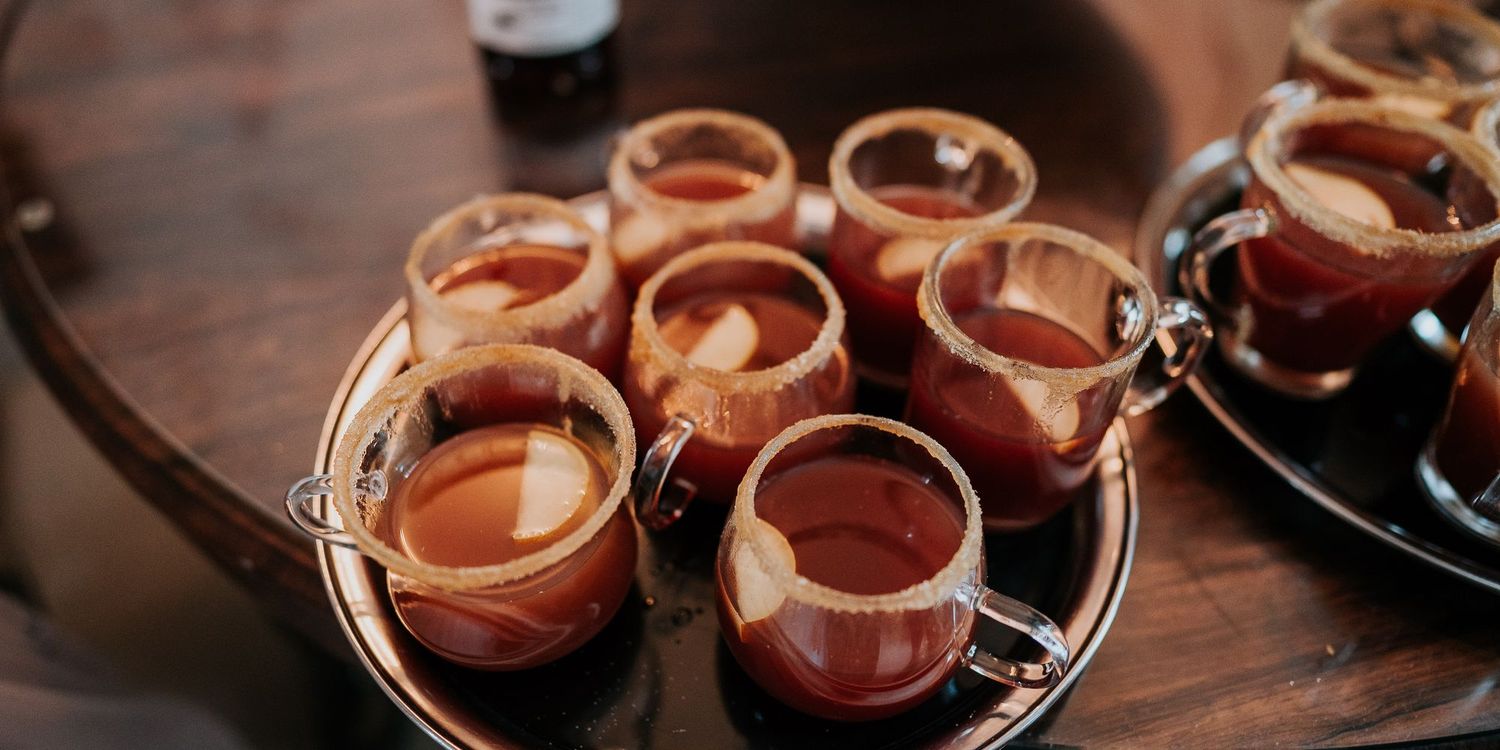 With a chill in the air and leaves on the ground, there's nothing more comforting than wrapping your cold hands around a warming seasonal sip. The summer spotlight falls on those cool, refreshing drinks – but come this time of year, you can choose between cold and hot cocktails, or even serve up a menu showcasing both! Welcome your guests at The Pole Barn on arrival to Dewsall, offer them warmth after the ceremony or make it part of your bespoke cocktail list so they can wander to the treehouse or firepit warming up with a steaming glass of deliciousness! The toasty tipples have been delighting guests at Dewsall for some weeks now, and we're here to share our round-up of our favourite winter warmers. So, if you're considering a cooler-month wedding, read on…
Marvellously Mulled
Infused with cinnamon, star anise, peppercorns, cardamom, allspice, orange peel and cloves, mulled drinks have been a Christmas essential for centuries. The festive favourites, which are sweet, spiced and, of course, alcoholic, are a wonderful and warming way to welcome guests to your reception and help set a cosy feel for the celebrations ahead.
With mulled wine being the obvious choice, we also like to offer something a little closer to home – mulled cider. Herefordshire is renowned for its ancient apple orchards and, as a result, some very epic cider, which tastes even more delicious when mulled at Dewsall.
Hot Toddy
The combination of whisky, honey, lemon, cinnamon and cloves really packs a punch in this classic hot concoction. Of course, the honey used to sweeten this beauty is our own honey made by the busy Dewsall bees on the estate. Warming from the outside in, this will be a winner on even the coldest of days.
Soft and Spiced
Not all toasty tipples are alcoholic! The essences of the season can still be captured in mulled juice – our favourites being apple, pear and cranberry and pomegranate, as they lend themselves so naturally to festive flavours. Our apple and pear juices come from our old family friends at their gorgeous apple orchards in the nearing village to Dewsall. We have had endless walks around their fields and wondered at their huge barns filled with different apple varieties – ah, the aromas!
Party Punch
The sight of cranberries, star anise and oranges floating in a bowl full of mulled punch is a sign that the festive season has begun! Mango juice and orange juice work in harmony to create the perfect balance of sweet and tart for this serve which is as delicious on the lips as it is on the eyes.
In The Festive Spirit
Ruby-red sloe gin is a winter warmer on its own, let alone when paired with sweet pear juice and mulled with festive spices. A perfect alternative to mulled wine or cider that showcases a seasonal liqueur.
Our in-house bar team will freshly prepare these toasty tipples so they're the perfect temperature to be sipped and savoured at your celebration. We can offer drinks on trays or help you build a beautiful drinks station, using items from our hire list, for your guests to help themselves to refills (how about asking your florist to dress this area, too!). We have a gorgeous selection of handled glassware suitable for the above drinks; please ask your event manager for more information.
Sx