See our Winter Weddings Offer - Four for Fourteen! Learn More
Q&A with Vicky Westall; a Dewsall Bride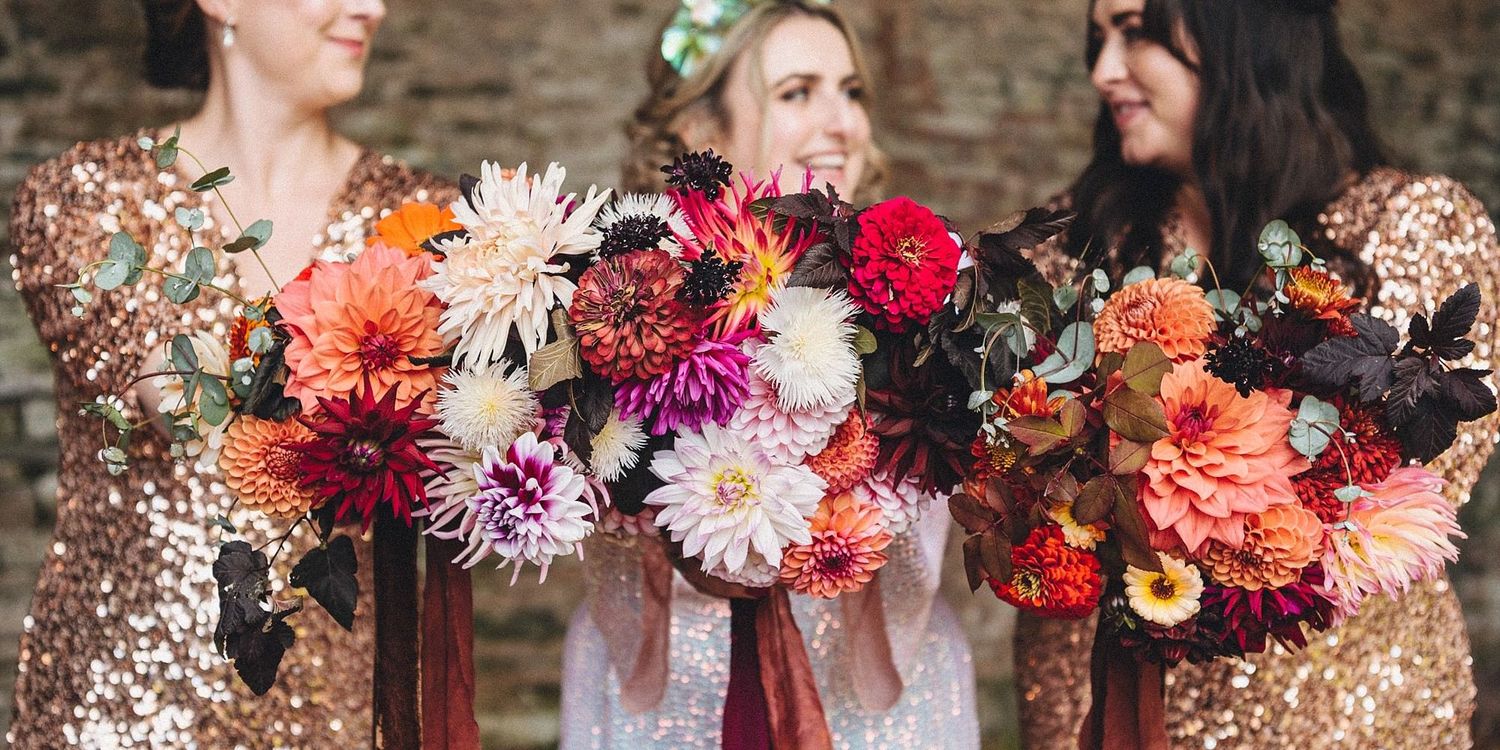 Vicky Westall, a Dewsall bride who launched her own flower business after growing and styling her own wedding flowers
We pride ourselves on helping our couples' dreams become a reality, and this is something we help happen on a weekly basis – all bespoke, brilliant and downright beautiful! However, we love hearing stories where a Dewsall dream has helped form a life-changing decision, and one wonderful Dewsall bride is here to tell us all about her journey. After her 2021 autumn wedding in which she grew and styled most of her gorgeous wedding flowers, Vicky Westall decided to leave her job and focus on blooming her very own cut flower business…
When did you first become interested in growing flowers and flower arranging?
I've always loved flowers and for the last seven years or so I have been a keen gardener. My parents have always been great gardeners and have always had wonderful gardens! Then, like many people, I spent a lot of the first 2020 lockdown growing lots of flowers and vegetables from seed as there wasn't a lot else to do being confined to the house. I loved growing – particularly from seed – and found it to be a real comfort during those tough times in lockdown.
When my partner, Mark, proposed in October 2020, I decided I would like to grow and arrange at least an element of our wedding flowers. From that moment, the bug truly bit, and I grew on a much more intensive level than I had done previously, researching and choosing what might work for our wedding the following autumn.
I became absolutely obsessed with cut flowers. As I got more comfortable with the growing side, I realised I lacked the skills to show them off, so I enrolled with Tallulah Rose and signed up for the online career change course. Throughout the spring and summer of 2021, I tackled the online lessons using the flowers that I had grown. I knew those flowers weren't going to be what was in season at the time of our wedding, but it helped me work on techniques and gain an understanding of what volume and mix of flowers and foliage I might need for our big day.
Growing flowers from seed, nurturing them, then picking them at the perfect stage and showcasing them in a beautiful arrangement gave me such satisfaction. It's something I would recommend to anyone – whatever their level of gardening experience.
What inspired you to take the leap and start your business? When did you launch?
It was about one week before and the weeks immediately following the wedding that I decided that I wanted to launch my own cut flower business. I know that post-wedding blues are real, but I was so upset at the prospect of not needing to grow any more flowers that it left me feeling almost bereft. I decided that I was going to launch the following spring and promptly ordered all my spring bulbs to be planted that autumn. I soft-launched about four weeks after the wedding, and by the end of March 2022, I had left my paid employment, and from 1st April, I officially launched the business. I knew whilst I had one foot in secure employment I wouldn't put myself out there properly; I needed to take the risk and apply myself 100% to my new venture, so that's what I did.
How did you feel about starting a business after your wedding, in comparison to before?
I was terrified. It was so lovely to have the positive compliments regarding our wedding flowers (of course, our nearest and dearest weren't going to say anything negative!); however, growing flowers to sell – whether by the bucket or in beautiful arrangements is not the same as growing them for yourself. I'm a bit of a control freak, and with flower farming, there are so many things out of your control that it took a long time to overcome those initial fears. There are still times now when I feel very anxious about developing a successful business. I guess I have to remind myself that it's still in its infancy, there's still lots to learn, and it's ok to make mistakes as long as I'm still putting my heart into it and willing to learn from mistakes, it will more than likely be ok. Oh, and I can't control the weather!
Flowers are a huge part of most weddings; how did you feel taking the lead amongst all your other pre-wedding preparations? Did you have any help?
Flowers are a huge part of any wedding and are very personal. I knew that for me to be the bride and the florist, I was going to have to limit my expectations; pulling off a giant arch installation whilst also trying to have my hair and make-up done was just not going to happen! So, I decided to focus on the personal bits – bouquets, buttonholes and table flowers – and let Dewsall dress up the rest of the barn with their stunning lighting options. My husband and I also made large dried flowers that we transported to the venue and then attached them to the chandeliers. For us, this was a way to add flowers to the ceiling without the stress of dressing with fresh flowers. Organisation was key to avoid scrambling around on the big day, and I would never have pulled it off if it wasn't for our amazing bridal party, who went over and above their duties to arrange table vases at 11pm the night before the wedding!
For any couples wanting to maybe have a go at some of their own wedding flowers, I would 100% recommend them to speak to their local grower. There's not a one size fits all approach when it comes to wedding floristry, so speak to different florists and flower farmers to find the right fit and solution for you.
One of my most popular options is providing mixed buckets of seasonal flowers for the bride/groom to arrange in table vases, and I'll arrange their bouquets and buttonholes and will deliver them on the morning of the wedding. This allows couples to add their personality and creative flair to their tables without being too costly or time-consuming.
Have you faced any challenges along the way?
To be honest, most of the challenges so far have been weather-related. We've had such a dry spring that water usage and rising costs have been something I've had to be more conscious of than ever. It can be difficult to manage your cut flower stock when things arrive ahead or after they are planned to, and as I don't use any imported flowers in my arrangements, I have to be very good at managing my books. Aside from weather-linked issues, I would say one of the biggest challenges I've faced since launching into the world of floristry is making sure everything I do isn't adding to the climate or plastics problem. Foam-free floristry should be mandatory, and it's wonderful to see the RHS banning floral foam from their shows this year, but it isn't always easy to find the alternatives. Thankfully there are an increasing number of resources devoted to sustainable floristry mechanics, and there are new options for reducing waste, but the industry on the whole still has a long way to go.
When launching your business, what has been important to you?
Aside from my love of cut flowers, sustainability is one of the key reasons why I wanted to launch my business. It's really important to me to regain the meaning of true seasonality when it comes to flowers. In the world we live in, it's so easy to gain access to everything, all the time, even if it's not seasonal. Globalisation means we can have things like roses all year, but the environmental cost is rarely considered when it comes to flowers. A rose shipped from the other side of the world that's sprayed and preserved in chemicals could not be more different from an English rose that's grown sustainably and only available for a few short months a year. The environment and human impact of imported blooms are widely unknown by consumers but is something everyone who buys flowers – whether for a wedding or just a gift bouquet – should be aware of.
From international floriculture workers experiencing long-term health damage from over-exposure to toxic chemicals to astronomical carbon emissions from air freighted, refrigerated blooms, the floral industry can be far from environmentally friendly or sustainable. British flowers, grown without chemicals, forced heat or light and are delivered without plastic, are undoubtedly the better choice for the planet, and it's really important that people start to question the origins of their flowers – just like they would their food.
By asking questions such as how have the flowers been grown? How far have they travelled? How are they arranged? – people can feel confident that the flowers they've chosen aren't contributing to a global environmental problem. Flowers from the Farm is an excellent resource for anyone looking for growers and florists that focus on sustainability and British flowers and the members will often be able to share a much wider variety of beautiful British flowers compared to their imported counterparts.
Do you have any advice for people yet to make their dreams a reality?
Take the leap and go for it. I knew I'd regret not giving it a chance more than any mistake I might make along the way. You don't know what might happen until you give it a try, and life's too short to shelve your dreams. Be true to yourself, share your journey, and you may be surprised about the support and opportunities that come your way. I know I have been!
Photos by: Marta May Photography