Real Wedding: Q&A with Leanne and Alex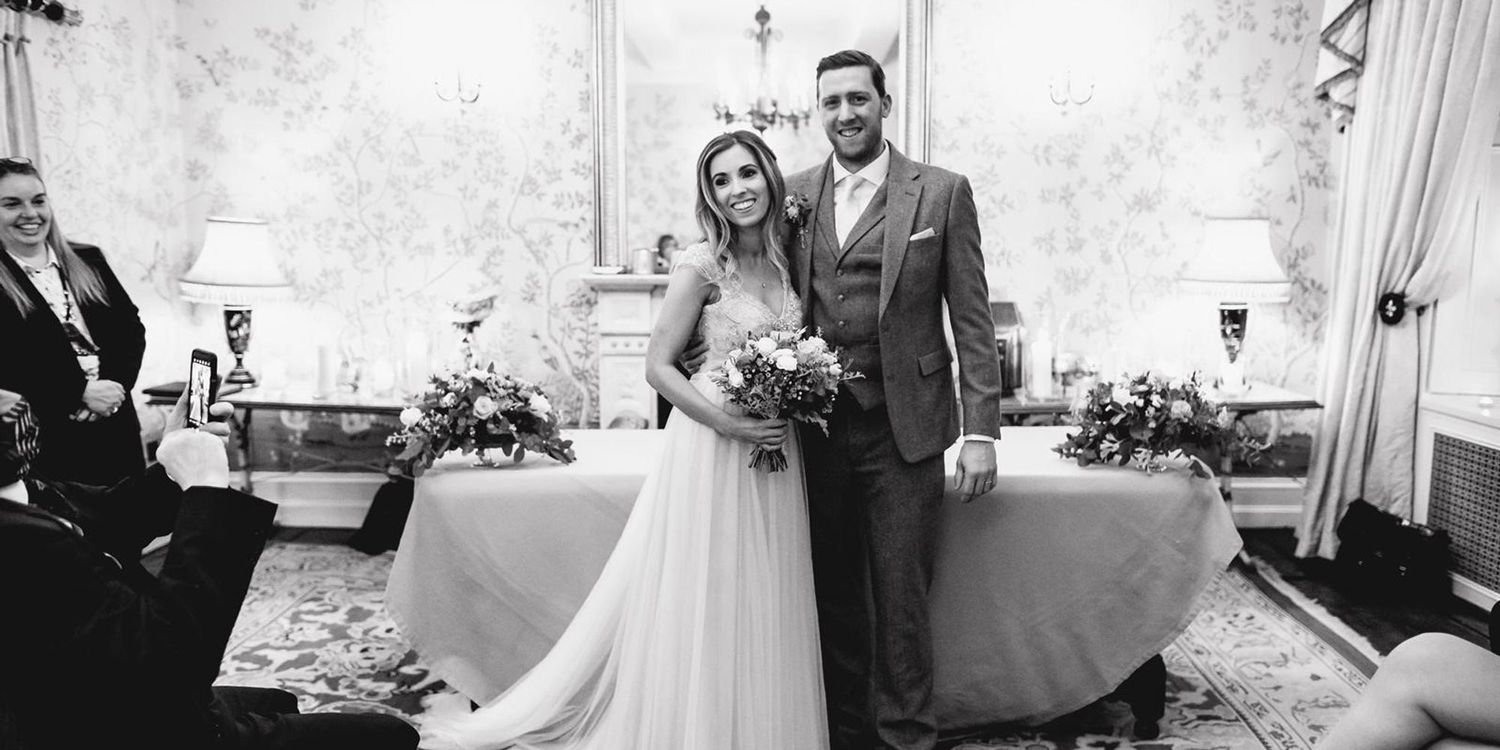 Real 'Micro' Wedding: Leanne and Alex
Since last year, the wedding sector has faced a multitude of restrictions. During the months when weddings were allowed to occur, restrictions were tight and guest numbers were extremely limited. We've caught up with Leanne and Alex, who kindly shared their experience of the greatest 2020 wedding conundrum faced by millions of couples – 'should we hold a micro wedding'? Read on to find out more…
Q: Please tell us a bit about yourselves…
A: We met just over four years ago on the weekend before Christmas through that famous dating app where you swipe left and right – they can lead to true love, believe it or not! Within two years, we had bought our first house and a dog – a Cockapoo called Rumple, affectionately named after one of the main characters in the TV show Once Upon A Time, which was the first TV series we watched together. We both love all things Disney – a definite bonding point, travelling and sport (Alex is a Tennis Coach). At the end of Lockdown 1.0, we brought our second Cockapoo into the family – Autumn, and they are very much our babies!
Q: What date did you hold your wedding? Was this the original date?
A: I absolutely love Christmas, I think it's so magical, and we also wanted our wedding to be different – that, combined with the day we met being the week before Christmas, led to us booking our wedding to be held on the 18th December 2020. And we were lucky enough to still get to be married on that day and keep to our original date.
Q: How did you feel when you realised your wedding would be impacted?
A: This was a long, draining and emotional process. We went through 9 months of not knowing if and how our wedding would be impacted, watching other people postpone in the Summer and Winter and not knowing what to do for the best. It brings a new slant on watching the news every day, as you read into every story wondering what that means for the likelihood of weddings being able to go ahead, trying to predict what the situation is going to be. We didn't know whether to just make the decision to postpone early and mitigate the stress that comes with not knowing, or push ahead. We had lots of conversations discussing every possible contingency plan and option – it was exhausting! The most painful thing was making alternative guest lists based on the number of people we would be allowed. Every option was a compromise, and I felt really sad for us that we weren't getting the build-up that in previous years you see all your friends getting to have.
Q: What made you decide to go ahead with your celebrations?
A: We decided that no matter what, we wanted to be married in 2020 and therefore, we would postpone a bigger celebration which we would ultimately treat as the real wedding day. Once we made the decision, with lots of support from family, to hold the big wedding we'd initially planned the following year, it took a massive weight off and knowing that we had that to look forward to made the decision all the easier. I also felt that after everything we had been through, it would be wasted to not come out of the year married – we just wanted to be husband and wife and know that we had that no matter what. We also felt that if we postponed the whole thing and for whatever reason, we still couldn't have the big wedding the following year, we would feel like we'd lost a year waiting to get married. Obviously, there is the added bonus of having two wedding days! We did a different colour scheme, suits, dress, flowers, hairstyle – and who doesn't want that!
Q: What was the best thing about your celebrations?
A: The best thing was the special moments and time we had with our immediate families. We would never have had that if we had had our original wedding. And having time with each of them was so special. It also meant our families got a chance to bond, and it was so lovely seeing them get on so well ahead of our bigger celebration this year. Dewsall also lent itself so well to the small wedding, and the chinoiserie, where we held the ceremony, felt the perfect size for the small occasion. It made us realise we had made the right choice with our venue.
Q: How will you celebrate when your party comes around?
A: We are having the full wedding day we had always planned and will be running it as such – including a ceremony which will be conducted by my brother as the legal ceremony has already taken place. We deliberately left a lot of the traditional elements out of our micro wedding so that we had it all for this year – the speeches, first dance, my proper wedding dress, the suits, writing our own vows etc. So the day will be exactly as we had planned, just without the legality.
Q: Would you recommend a Micro Wedding to other couples?
A: 100%. Dewsall really supported us to make it possible and work with us so we can have both our dream days. I also know people who have had a micro wedding, and that has actually been enough for them as well because they are so unique and intimate. Our families all said to us after the day that they didn't know what to expect before they came, but that they now all felt we have ended up with a better outcome than if we had our original wedding. The best of both worlds.
I was sceptical leading up to the day about how it would actually be, but it was so incredibly special, and we will be forever thankful for those memories with our families, which we will hold in our hearts for the rest of our lives.