Real Wedding: Tanya and Drew's September Sunshine Wedding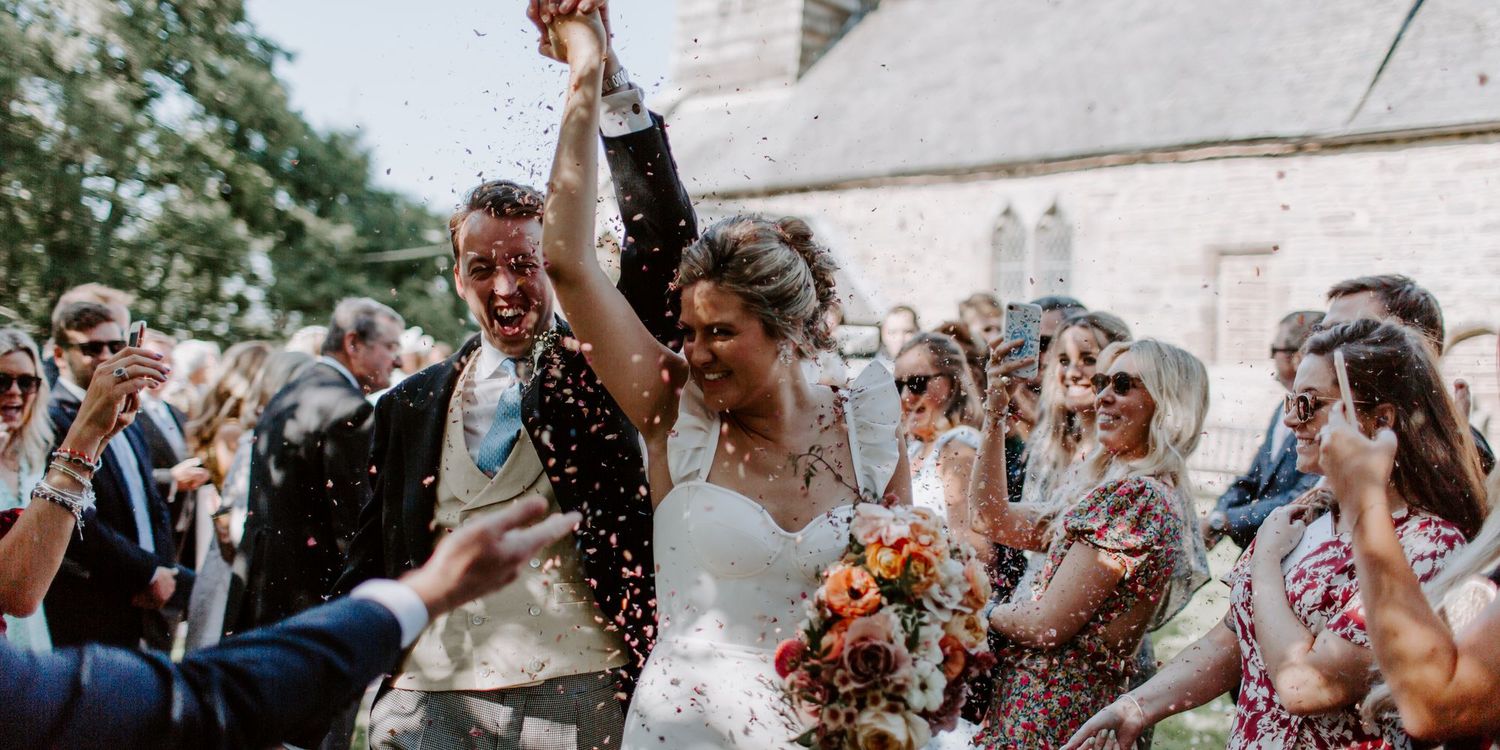 Real Wedding: Tanya and Drew
Tanya & Drew's celebrations were the perfect example of everything you could wish for in a September wedding – glorious sunshine, warm summer heat and a subtle hint of autumn. The London couple booked their Dewsall celebration in November 2018 for the following September; a two-night stay from Friday 20th – Sunday 22nd, with the wedding commencing on Saturday 21st.
As suppliers began to arrive the day before the wedding, we knew we were in for a real treat. The couple had fallen in love with Dewsall's beauty, in their words "the venue is stunning". Beautiful styling was at the forefront of this event, and it was apparent that meticulous detail had been paid to each element of this wedding stay.
Celebrations kicked off the night before where Tanya and Drew enjoyed drinks in the hall before an arrival night supper with their families and friends in the conservatory. Tanya stayed onsite, whilst Drew and his groomsmen stayed a short stroll away from Dewsall, in the Monkhall Cottages.
Wedding day celebrations began with Tanya and her maids enjoying getting-ready fizz in the Dewsall Suite before being joined by hairdresser, Tabitha Maccurrach-Paine, and make-up artist, Elizabeth Spry. The skies were blue, the air was crisp and the morning sun shone bright, it was a perfect start to the day.
While the preparations were in full swing, Drew and his groomsmen headed into Hereford for brunch at local gem, Sensory and Rye. Once refuelled with button-holes in place, they made their way to Dewsall Church for the 1.30pm ceremony.
Tanya looked stunning in her bespoke wedding dress, which she helped design. The loose shoulder frill was complemented beautifully by a similar fringe on the bridesmaids' gorgeous pastel blue gowns. Once ready, they collected their beautiful bouquets from Liberty Lane Flowers and made their way down the Dewsall path to the church – one of Dewsall's most iconic journeys!
Tanya made her entrance to the church through the most gorgeously-full floral arch, also styled by Jennie at Liberty Lane Flowers.
After the ceremony, the newly-weds emerged outside for their confetti shot and a celebratory drink. Waiting for them was an 80s BMW belonging to one of the family, ready to take them for a surprise ride and what would be the ultimate just-married photoshoot!
Whilst the incredible Nicola Dixon captured the newly-weds' joy, guests moved to the sunny gardens surrounding Dewsall for a drink and canapé reception. Furniture supplier, Hire Love, had worked their magic to create an incredible outdoor seating area for guests to relax and enjoy this part of the day.
Tanya and Drew went all out on their canapés, choosing eight choices – all which were perfectly seasonal and varied.
Canapé Menu
Chicken Liver Parfait on Toasted Brioche with Cinnamon Roasted Plums
Crab Arancini with Watercress Pesto
Flaked Hot-Smoked Salmon, Creme Fraiche and Chives on Thin Rye Cracker
Mexican Tuna Ceviche in Crispy Taco Shells with Chilli and Lime
Prawn Fritto Misto – Prawn in a Herb and Chilli Tempura with Chipotle and Lime Mayonnaise
Fritto Misto – Vegetables in a Herb and Chilli Tempura with Chipotle and Lime Mayonnaise
Welsh Rarebit Gougeres
The Retro Mushroom Vol au Vent with Truffle Cream and Chives
Polenta Bites with Sundried Tomato and Walnut Pesto
The bridal party enjoyed some formal, and informal photographs before making their way to the stunning Wainhouse Barn for the wedding breakfast.
Dressed with a foliage ceiling and bathed in romantic candlelight, the Wainhouse looked stunning. Pops of colour throughout gave the room the perfect balance, representing a wedding that was perfectly nestled in the transition of one season to another.
Guests took their seats for the speeches and a Cremant toast before our team served up an incredible menu bursting with flavours from the season.
Menu
Feasting Herefordshire Lamb with Garlic and Mint Pesto Served with Roasted Micro Jersey Royals in Rosemary
OR
Whole Slow Roasted Celeriac, Pearl Barley and Mushroom Sauce, Served with Roasted Micro Jersey Royals in Rosemary
A Harvest Salad of Squash, Beetroots, Red Onion, Fennel, Pomegranate and Feta Cheese
Peas, Green Beans and Broad Beans with Watercress
A side of Cucumber and Mint Yoghurt
Lemon Posset with a Ginger Biscuit
OR
Dark Chocolate Coconut Pot with Raspberries, Raspberry Sorbet and Pistachio
Tea and Coffee
Whilst guests were dining, the band, Signal, arrived to set up behind the retractable doors to the dancefloor. As the day cooled off, our team lit the fire pit outside the Wainhouse for guests to enjoy later in the evening.
Tanya's sister had made their wedding cake, a semi-naked sponge adorned in autumnal fruits and foliage.
Once cut, they took to the dance floor to continue celebrating their love for one another. Complete with a confetti cannon, Tanya and Drew's first dance was romantic, but their passion to party shone through. Guests soon joined them to dance the night away, in what would be a spectacular evening of celebrations!
Suppliers
Venue – Dewsall Court
Hair – Tabitha Maccurrach-Paine
Make-up – Elizabeth Spry
Photographer – Nicola Dixon
Videographer – Shutterbox Films
Dress –
Florals – Liberty Lane Flowers
Band – Signal
Furniture – Hire Love