Join us this Christmas for a Yuletide soirée Read More
The Wainhouse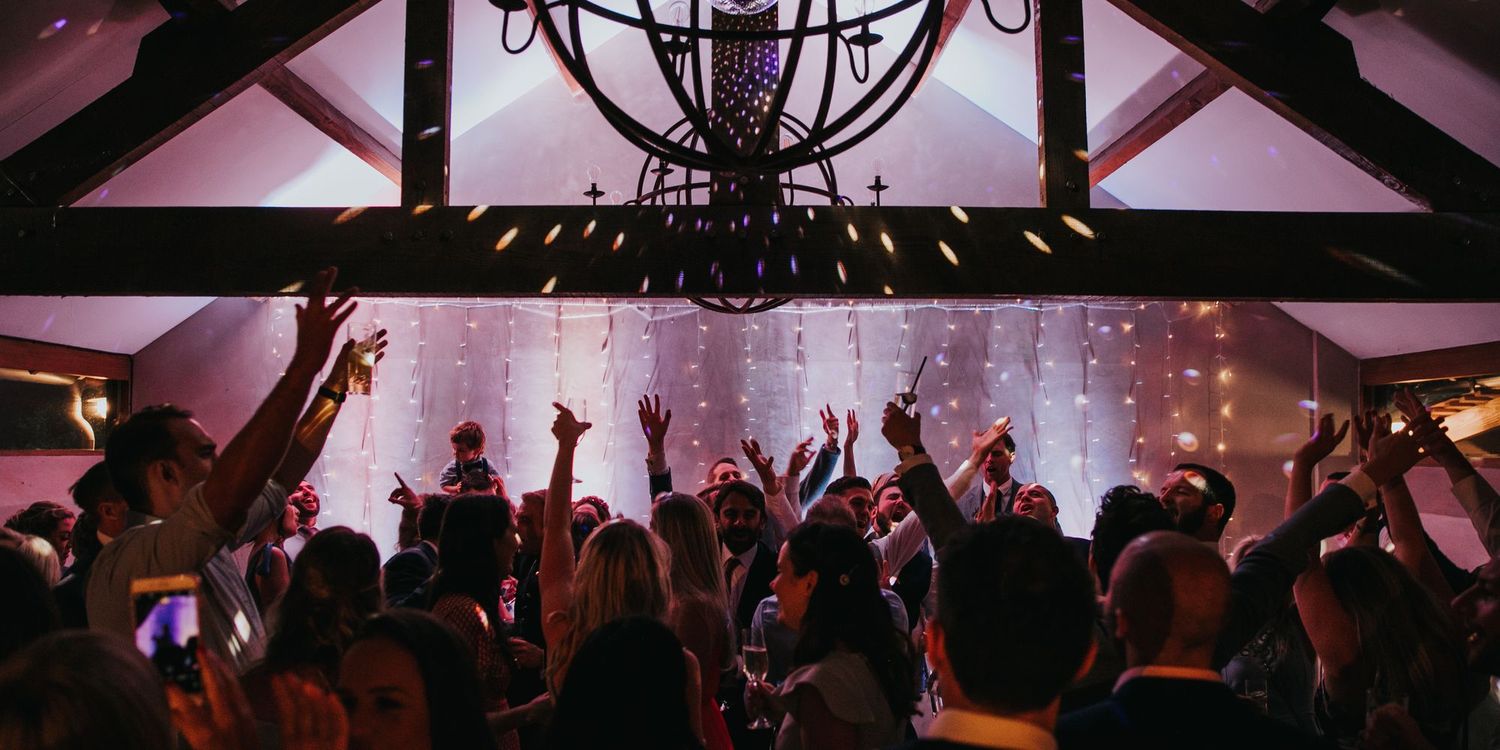 The Wainhouse Barn at Dewsall Court
When Joe and Jane Robinson bought Dewsall, the Wainhouse barn was not yet part of the estate. A pain to the farmer who owned it, he often hinted it wouldn't be the end of the world if the barn came down! Supported by fantastic tree trunks, the family couldn't say goodbye to the beautiful, open-sided barn. So, with a determined reroute of the track, the barn was saved, and it became part of the enchanting Dewsall estate.
From there on, the Wainhouse became a family party barn! From Samantha's Grandparent's Golden Wedding Anniversary to her own 30th birthday, it has hosted many celebratory occasions. By the time Dewsall was converted into a wedding and event space, the Wainhouse was already a tried, tested, much loved and happy place!
The open-sided barn was renovated six years ago. By using glass to enclose the barn, we preserved the charm of being so close to our beautiful grounds. As a result, the Wainhouse is now a gorgeous indoor space where precious and life-long memories can be made with family and friends.
The stone, glazed and wooden-pillared Wainhouse Barn has space to seat up to 170 guests for celebrations. With 180-degree views out over the grounds, the venue allows you to design a seating plan that suits your style. The barn also has fully retractable doors, bringing the outside in on those beautiful sunny days. Also fitted with a custom dance floor and bar, the Wainhouse can host your day from start to finish.
The 'I Do's
Step inside the Wainhouse and share your vows in the presence of your family and friends before sitting down to sign the register. With a licence for marriages, couples can legally be wed in the stunning space.
Although the Wainhouse is full of charm and character to inspire, its final look is always unique and personal to our couple. From rustic minimalism to classic glamour, our in-house team and recommended suppliers can create the style and atmosphere you've dreamed of.
Seating for Eating
The Wainhouse Barn offers flexibility when choosing your table configuration. Whether you'd like modern rows of banquet tables, the more traditional and intimate round tables, or a mixture of both, we will be able to help you plan your seating in style.
What's Included
Dining furniture for The Wainhouse, such as tables and oak chairs with linen cushions, are included at no extra charge. Also included in this is a beautiful collection of crockery and glassware; choose from our modern contemporary or vintage antique collection. Paired with our water glassware, your tables are stylishly dressed before adding any flowers or centrepieces!
Overhead, you'll also enjoy the twinkling flame from our hanging chandeliers which hold real flame candles, also complimentary to your booking. The gentle flicker within the beams adds a magnificent touch and instant atmosphere.
Bespoke Dancefloor
Host your celebrations all in one place! The Wainhouse transforms from reception to an evening party in the blink of an eye. Open up the sliding back doors to reveal a wow-factor party space! Inspired by a compass rose, the dance floor created by local artist, Meg Lovell, sits perfectly on the axis and incorporates stunning pops of colour into the barn. Overhead, a collection of hanging copper disco balls mimic the planets, shimmering down on guests as they party the night away.
The Bar
Our bar staff will serve your favourite drinks and cocktails from our fully stocked bar. With premium and locally sourced products, including Chase Spirits and White Heron British Cassis, our bartenders really know how to serve up a treat when using these local and much-loved tipples.
The bar itself is adorned with a copper top and showcases the Dewsall logo on its front, another beautiful feature of the Wainhouse for your guests to admire.
Tasting Events
Welcoming future Dewsall couples to enjoy, our Tasting Event is undoubtedly one of our favourite occasions.
From welcome drinks and canapés to a banquet of courses and everything in between (including amuse-bouche!), we love to help you make your menu ideas come to life! Our team of talented chefs work with locally sourced products to ensure you receive fresh and outstanding quality dishes.
The Dewsall Firepit
Oh, if only the Dewsall Firepit could talk – it would have many stories to tell! One of the most iconic spots on the Dewsall Estate, the firepit outside of the Wainhouse makes a cosy spot for guests to gather in the evening. The perfect place for a hot chocolate and s'mores station.
If you can see yourself hosting unforgettable celebrations in the Wainhouse, contact us via email at [email protected] or fill out the contact form on our website.